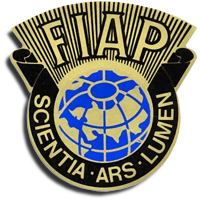 Federation Internationale de l'Art Photographique
Its purpose is the promotion of photographic art under all its aspects and by all kinds of photographic events.
All considerations of political, ideological or racial order are absolutely banned from the activities of FIAP.
The FIAP is an international federation which affiliates as operational members, the national associations of photography.
FIAP counts more than 85 national associations in the five continents and represents the benefits of nearly one million individual photographers.
Since September 2004, camera-clubs and regional groups ouf clubs can join FIAP, under some conditions.
Here you can find link to official FIAP website:
http://www.fiap.net/index-en.php
Here is a link to the Polish website about FIAP:
http://fiapinfo.republika.pl/
I participate in FIAP international salons since March 2011.
My shots were accepted over 250 times on International Photography Salons under patronage of FIAP.
I was also awarded Gold FIAP Medals.